Xpert® Xpress MVP
Xpert® Xpress MVP is a new FDA cleared, on-demand PCR test to aid in the diagnosis of vaginal infections in symptomatic women within an hour.
The Need
---
Vaginitis is a leading cause of clinic visits by women, with more than 10 million per year in the United States.1 Limitations with traditional test methods contribute to poor diagnosis, inappropriate treatment, and persistent symptoms.2 High-performing PCR tests are available for large batch analyzers but have limited practical use for clinicians due to a lag in reportable results, making appropriate same day treatment a challenge.3
Challenges remain:
Detection and differentiation of bacterial vaginosis (BV), vulvovaginal candidiasis (VVC), and trichomoniasis (TV), which all present with similar symptoms
Mixed and co-infections of BV, VVC, and TV are common, further complicating diagnosis and the guidance of appropriate treatment4,5
Insights for effective triage and patient management
Testing options that offer accurate and objective test results to drive timely and appropriate treatment for improved patient management
The Solution
---
The Xpert® Xpress MVP test is a new, FDA cleared, on-demand PCR test to aid in the diagnosis of vaginal infections in symptomatic women within an hour. This test introduces a BV flora specific algorithm for bacterial vaginosis combined with the detection of Candida species (Candida group and Candida glabrata/krusei) and Trichomonas vaginalis, from a single sample on Cepheid's easy-to-use GeneXpert® systems.
On-demand molecular testing — an ideal solution:
Actionable diagnostic aid for bacterial vaginosis, vulvovaginal candidiasis, and trichomoniasis within 60 minutes, including potential co-infections
On-demand results for 4 separate callouts: bacterial vaginosis, Candida group,* C. glabrata/krusei, and T. vaginalis from a single sample collection
Implementing easy-to-use testing with GeneXpert technology
The Impact
---
The Xpert Xpress MVP test, performed on Cepheid's GeneXpert systems, delivers an accurate, simple, and flexible solution for uncomplicating the diagnosis of vaginitis.
It delivers single-test confidence aiding clinicians in diagnosing three distinct conditions from one sample.
Easy to use multiplex, real-time PCR panel test
Less than 1 minute hands-on-time and objective PCR results within 60 minutes
Detect mixed and diverse vaginal conditions from one sample
Designed to enable appropriate treatment the first time
US-IVD. In Vitro Diagnostic Medical Device.
* Target includes C. albicans, C. tropicalis, C. parapsilosis, and C. dubliniensis.

References:
1 Brown H, et al. Improving the Diagnosis of Vulvovaginitis: Perspectives to Align Practice, Guidelines, and Awareness. Population Health Management 2020 23:S1, S-3-S-12
2 Hillier SL, et al. Diagnosis and treatment of vaginal discharge syndromes in community practice settings. Clin Infect Dis. 2021 May 04; 72(9) 1538-1543
3 Gaydos CA, et al. Use of a Rapid Diagnostic for Chlamydia trachomatis and Neisseria gonorrhoeae for Women in the Emergency Department Can Improve Clinical Management: Report of a Randomized Clinical Trial. Ann Emerg Med. 2019 Jul; 74(1) 36-44
4 Gaydos CA, et al. Clinical Validation of a Test for the Diagnosis of Vaginitis. Obstetrics & Gynecology: July 2017 - Volume 130 - Issue 1 - p 181-189 doi: 10.1097/ AOG.0000000000002090
5 Schwebke J, et al. Clinical Validation of the Aptima Bacterial Vaginosis and Aptima Candida/Trichomonas Vaginitis Assays: Results from a Prospective Multicenter Clinical Study. J Clin Microbiol 58:e01643-19.
Workflow: 3 Easy Steps using the GeneXpert® System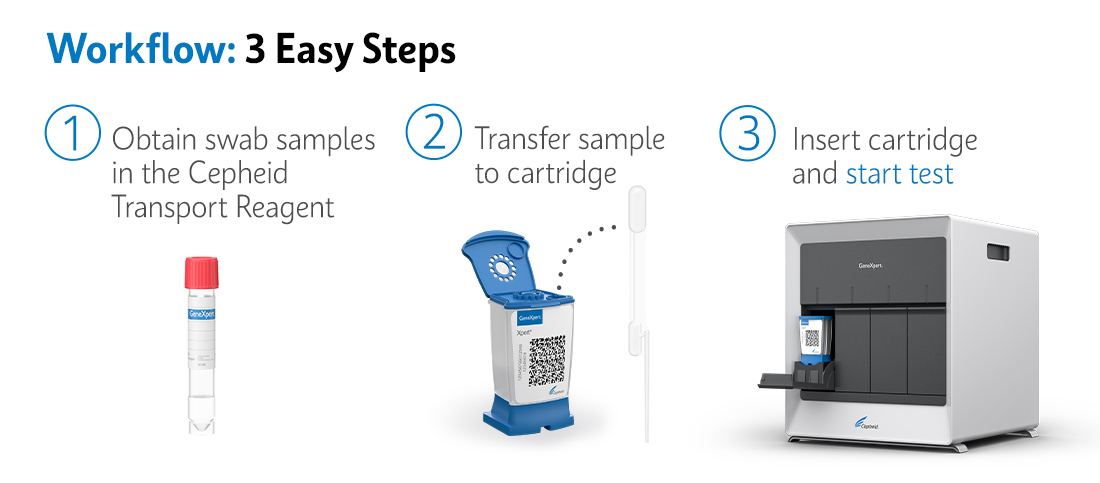 Ordering Info
---
Xpert® Xpress MVP
Number of Tests: 10
Catalog #: XPRSMVP-10