Xpert® HIV-1 Qual
Same day detection of HIV-1 infection to support early infant diagnosis and identification of acute infection in 92 minutes
Ordering Info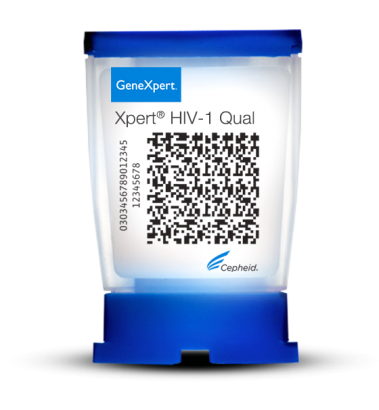 The Need
---
The World Health Organization estimates that 35 million people worldwide are currently living with HIV/AIDS.1
Of those infected, 2.1 million represent new infections and an estimated 240,000 are children.2 One-third of all people living with HIV reside in nine countries in southern Africa, which only account for 2% of the global population.3 Without timely HIV testing and therapy initiation, one-third of HIV-infected infants will die before their first birthday and more than 50% will die before reaching two years old.2
Early diagnosis of HIV infection in infants is a necessity; however, many patients are lost to follow-up while waiting for an early test.
A highly sensitive HIV qualitative test is needed for detecting HIV infection in pediatric patients 18 months of age or younger. To reduce loss to patient follow up, a near-patient, same-day HIV PCR test is critical to expand access for high risk patients and infants.
(1) WHO. HIV/AIDS Fact sheet N°360. Updated November 2014.
(2) UNAIDS. Gap Report 2014 Jul. Updated Sep 2014. Accessed Mar 2015.
(3) Hankins C. Overview of the Current State of the Epidemic. Curr HIV/AIDS Rep 2013
The Solution
---
Xpert HIV-1 Qual is a qualitative test that provides on-demand molecular testing for early diagnosis.
Based on the GeneXpert technology, Xpert HIV-1 Qual provides a total nucleic acid based test for RNA and proviral DNA in one fully integrated cartridge.
Redefining Simple:
Easy
100 μl of WB or 1 DBS (60-70 μL)
Simple near-patient workflow
No requirements for PCR room settings
No daily maintenance or liquid waste management
Rapid
90 minutes run time
No batch, no delay
1 minute hands-on time
Flexible
Providing up to 403 results per 8 hours*
Random access 24/7 availability
Run multiple different tests on the same platform at any time
Fixed cost per reportable result independent of daily volume
* Operational throughput on Infinity-80; internal analysis.
The Impact
---
Greater Sensitivity: Detect HIV infections up to 7-10 days before seroconversion
Improve Patient Care: Same day results support better clinical decisions
Increase Efficiency: Rapid results enable immediate intervention to save lives at birth
Strengthen Communities: Quick decisions can help reduce morbidity or mortality in HIV-infected infants
Get Answers Earlier
Xpert HIV-1 Qual detected HIV-1 on average nine days earlier than a panel of HIV-1 antibody tests and five days earlier than a panel of HIV-1 antigen p24 tests.*
* Data in Xpert HIV-1 Qual Package Insert. Internal Analysis. Antibody tests: Abbott HIV 1/2 EIA, Abbott PRISM HIV-1/2, Abbott Murex HIV 1.2.O HIV, Bio-Rad GS HIV-1/HIV-2 Plus O EIA, Siemens HIV 1/O/2 Enhanced ADVIA Centaur. Antigen p24-tests: Abbott, Coulter HIV-1 p24 Antigen, Innogenetics RL29, Perkin Elmer Alliance HIV-1 p24 ELISA
Ordering Info
---
Xpert® HIV-1 Qual
Number of Tests: 10
Catalog #: GXHIV-QA-CE-10