Xpert® MRSA/SA BC
Accurate Detection of MRSA and SA in Positive Blood Culture Specimens in About an Hour
Ordering Info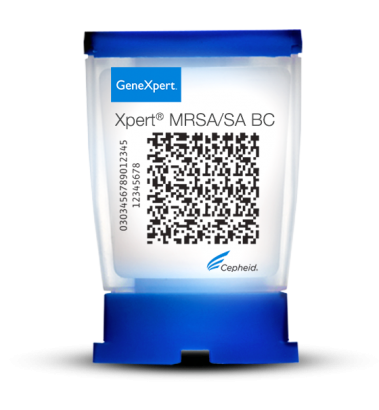 The Need
---
Bloodstream infections are a major healthcare concern:
3.4 million individuals develop sepsis every year in the European Region, and 700,000 of these patients do not survive.1 Methicillin-resistant Staph aureus (MRSA) and Staph aureus (SA) are the causative pathogen in up to 35% of severe sepsis cases.2
Current culture-based lab testing methods for gram positive blood culture bottles require an additional 18-48 hours for determination of MRSA or SA.
Without timely results, clinicians often employ empiric treatments, using costly and inadequate antimicrobials that contribute to increased drug resistance.
The Solution
---
On-demand molecular testing – an ideal solution:
Accurate molecular detection of MRSA or SA from a gram-positive blood culture sample in about an hour
Simple test protocol can be run on all shifts to provide results around-the-clock
Provides clinicians actionable information when it is most needed
Easily integrates into your hospital's bundle of sepsis interventions
The Impact
---
A clinical study3 showed that using the Xpert MRSA/SA BC test coupled with an infectious disease pharmacist consultation resulted in:
Switch to optimum antimicrobial therapy 1.7 days sooner
Mean length of stay was reduced 6.2 days
Mean hospital costs were €15,643 less per bacteremic patient
(1) WHO. Hand Hygiene Day: It's in your hands – prevent sepsis in health care. Accessed May 2020. http://www.euro.who.int/en/health-topics/Health-systems/health-workforce/news/news/2018/5/hand-hygiene-day-its-in-your-hands-prevent-sepsis-in-health-care
(2) Annane D, et al. Septic Shock. Lancet. 2005 Jan 1-7;365(9453):63-78.
(3) Bauer KA, et al. An Antimicrobial Stewardship Program's Impact with Rapid Polymerase Chain Reaction Methicillin-Resistant. Clin Infect Dis. 2010 Nov 1;51(9):1074-80.
Ordering Info
---
Xpert® MRSA/SA BC
Number of Tests: 10
Catalog #: GXMRSA/SABC-CE-10
Product Resources
Downloads