Xpert® C. difficile BT
Detection of Clostridium difficile infection with an independent call-out of binary toxin and differentiation of the 027 strain in under an hour
Ordering Info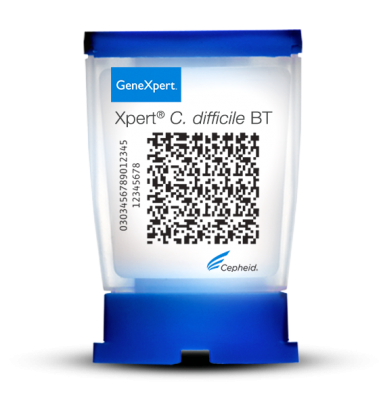 The Need
---
C. difficile infections (CDI) have been increasing in incidence and severity, and are associated with an increase in length of hospital stay, costs, morbidity and mortality.1
Highly virulent (027-NAP1-BI) strains have caused outbreaks of severe disease in Europe and North America — with mortality rates above 50%2
Binary toxin (BT) may be important because of:

Links to both disease severity and outcome3,4
Strains, such as 033, are positive only for binary toxin and not toxins A and B yet have been reported to cause CDI5,6
Incremental costs associated with C. difficile infection7
(1) Zilberberg, et al. Emerging Infectious Diseases. 2008:(14);6.;
(2) Mundy, et al. Infection. 2007;(35):300-7.;
(3) Bacci, et al. Emerg Infect Dis. Jun. 2011.;
(4) Stewart, et al. J Gastrointest Surg. 2013;(17):118-25.;
(5) Eckert, et al. New Microbes New Infect. 2014:(8);3:12-7.;
(6) Androga, et al. J Clin Microbiol. 2015;(53):973-5.;
(7) Kuijper, et al. European Society of Clinical Microbiology & Infectious Diseases, CMI. 12;
(6):2-18.
The Solution
---
Xpert C. difficile BT detects the presence of toxin-producing Clostridium difficile in 47 minutes. Detection of three targets: toxin B (tcdB), binary toxin (cdtA), and a tcdC deletion at nucleotide 117, offers presumptive identification of the 027/NAP/BI epidemic strain and an independent call-out of binary toxin results. This new solution delivers both speed and accuracy, and eliminates the need for additional testing.
CDI has become a substantive and growing burden in hospitalized patients prompting the need for earlier and accurate detection. The impact of Cepheid's Xpert C. difficile BT test can be significant: with 47-minute detection, clinicians can now initiate therapy and appropriate infection prevention and control measures sooner, supporting better patient management.
The Impact
---
With Xpert C. difficile BT:
Clinicians can promptly administer therapy to support improved patient outcomes
Timely infection control initiatives can be implemented to reduce spread of infection within an institution8
Speed and accuracy eliminate the need for additional testing
Identify the presence of the gene encoding binary toxin, which has been linked with increased disease severity and poorer patient outcomes
Detect strains of C. difficile that only produce binary toxin, which may still be associated with CDI
8) National Prevalence Study of Clostridium difficile in U.S. Healthcare Facilities. www.apic.org.
Ordering Info
---
Xpert® C. difficile BT
Number of Tests: 10
Catalog #: GXCDIFFICILE-CE-10
Xpert® C. difficile BT
Number per Pack: 120
Catalog #: SDPS-120
Xpert® C. difficile BT
Number of Swabs: 50
Catalog #: 900-0370
Product Resources
Downloads